Expo – a platform to open new business opportunities
Expos, trade fairs, and shows are a way to build business networks and search for partners that open new potential markets. It brings a lot of positive exposure for companies and their innovations, builds customer interest, and opens doors for collaborative projects along the life science and medical technology value chain. Especially for the healthcare ecosystem, industry-specific conferences and trade fairs are essential to bringing the newest forms of treatment and healthcare-related technology available to everyone.
Unfortunately in 2020, the Covid-19 pandemic caused worldwide lockdowns, and the many expos got whether canceled or postponed. After the initial chock, online platforms and virtual events were the next steps in efforts to keep the progress ongoing. In retrospect, some of the virtual expos were well-organized, while most were not all that well thought in terms of visitor and exhibitor friendliness.
Now in 2022, as the pandemic hits the third year, expos, trade fairs, and shows are slowly turning back to live events. But in many cases, they have also integrated hybrid models so that online participation is also a possibility, and hopefully with a little more thought on user-friendliness.
As the fastest growing market, Asia – Southeast Asia and the Asia Pacific specifically – is dependent on well-organized expos to enable healthcare ecosystem growth. One of the reasons why the region is hosting an incredible amount of different trade fairs and shows of different levels.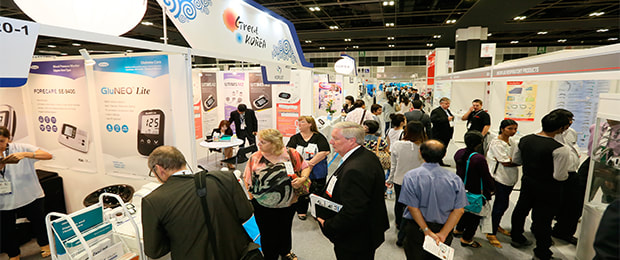 Asia-Pacific is the fastest growing market for life sciences and medical technology.
Expos not to miss in Asia 2022
Here is a list for the first half of the year 2022 of most interesting Expos, as it is an arduous task to figure out which to participate in the region and which are not that essential. Traditionally, Japan has been dominating in this domain, but South Korea has been shorten the lead by arranging life science expos on a larger scale in terms of visitors and exhibitors. On the other hand, in some developing countries, such as Malaysia and Indonesia, only one medical and hospital expo might be arranged that is worth consideration.
Always check the official webpage (link opens in new window) for details and specific info on how to participate in the event:
EXPO
DATE
WHAT ORGANIZER'S SAY
WHERE
MEDICAL JAPAN / HOSPITAL EXPO 2022

Feb

24th – 26th

Japan's leading International trade fair for medical devices/equipment, IT technologies, and Services.

INTEX Osaka,

Japan

8th REGENERATIVE MEDICINE EXPO 2022

Mar

9th – 11th

Japan's Leading Exhibition for Regenerative Medicine Technologies

INTEX Osaka,

Japan

KOREA INTERNATIONAL MEDICAL & HOSPITAL EQUIPMENT SHOW 2022

Mar

10th – 13th

Unique Platform to Experience the Advance Medical Technology

COEX Seoul,

South Korea

IDEM 2022

Apr

8th – 10th

The leading dental exhibition and conference in Asia Pacific

MARINA BAY SANDS,

Singapore

SOUTHEAST ASIAN HEALTHCARE & PHARMA SHOW 2022

Apr

12th – 14th

SE-Asian Healthcare Show, with its strong Scandinavian and International links has firmly secured its position as one of the leading events for the healthcare-medical, pharma, rehab and clean room segments of the industry.

KUALA LUMPUR CONVENTION CENTER,

Malaysia

MEDTEC JAPAN 2022

Apr

20th – 22nd

The Largest Medical Device Manufacturing and Design show in Japan

TOKYO BIGSIGHT,

Japan

BIO KOREA 2022

May

11th – 13th

BIO KOREA has been held every year since 2006 and serving as a business platform for international biohealth companies.

COEX Seoul,

South Korea

KOREA PHARM & BIO 2022

Jun

14th – 17th

KOREA PHARM & BIO 2022 is the leading Pharmaceutical and Bio-pharma exhibition in Korea

KINTEX Ilsanseo-gu,

South Korea

MEDICAL TAIWAN INTERNATIONAL MEDICAL, HEALTH & CARE EXPO

Jun

16th – 18th

Your gateway to complete medical solution ecosystem

TAINEX Taipei,

Taiwan
Use Desktop or Tablet to access the Expo details.